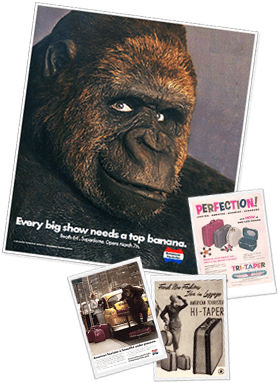 Polish immigrant Sol Koffler arrived in the United States at the age of 13, with only a primary school education, but was full of ambition.
In 1932 Koffler founded the 'American Tourister' luggage company in Providence, Rhode Island by investing his life savings in his dream. His goal was to create a significantly more durable product than any competitor's in the same price range. Sol was determined to produce luggage priced at $1 in the midst of the Great Depression.
The company quickly established a reputation by producing quality luggage at a reasonable price. It was also an innovator. American Tourister was the first luggage manufacturer to make an all-vinyl case. Koffler was one of the first to see the benefits of a revolutionary new material developed during the war, and he introduced moulded plastic luggage before anyone else did.
In the 1950s, he improved the moulded plastic luggage manufacturing process to create a nearly indestructible, low-cost product. As time went on, the company introduced padded handles, stronger locks and an expanded line of colours. Company innovations continued through the '90s when American Tourister won the Industrial Designers Society of America award for its EasyTurn wheel handling system.
Around the same time, American Tourister was acquired by Samsonite and subsequently became the 2nd most important luggage brand in the world. Today Samsonite continues to invest in the world-wide present American Tourister brand; And is supporting the aspirations of the brand to further increase its strength around the globe as a supplier of accessible world-class quality with a focus on products for family leisure and young travellers.